Fia Restaurant is open for dinner only, Tues. – Sun. Valet Parking is suspended until further notice. Parking fee still applies.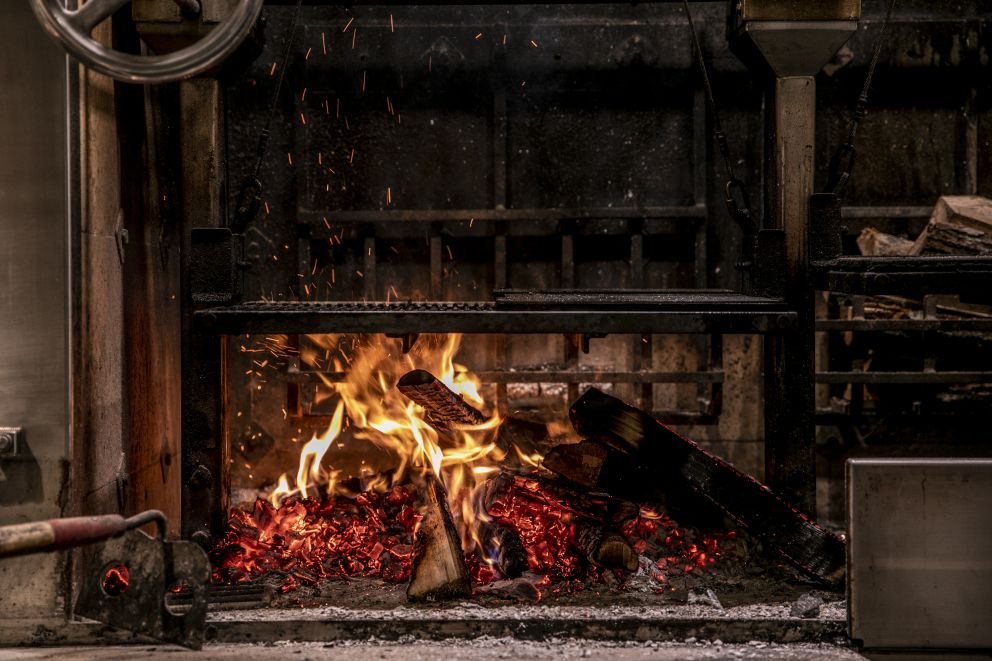 SALADS & APPETIZERS
* WOOD - FIRED HUMMUS
Charred Sweet Onion, Toasted Pine Nut, Lavash
* WEDGE SALAD
Tomato Pesto, Blue Cheese Mousse, Bacon, Pecans
CAESAR SALAD
Baby Romaine, Parmesan, Boquerones

BUTTERNUT SQUASH SOUP
Pumpkin Oil, Pumpkin Seeds

PAN - SEARED POTATO GNOCCHI
Beurre Monte, White Truffle, Thyme, Parmesan
GRILLED MEATBALLS
Coconut & Mint Chutney
CAPRESE SALAD
Heirloom Tomatoes, Burrata, Basil
PORK BELLY
Rum & Coke Glaze, Heirloom Grits
SPICY SHRIMP SAGANAKI
Diavola Sauce, Pernod, Feta
CHARRED OCTOPUS
Roasted Pepper, Artichoke, Olives, Capers, Lemon, Olive Oil
GRILLED CIABATTA
Tomato Rubbed, Chimichurri
WARM GOAT CHEESE & TOMATO TARTLET
Arugula, Basil
ENTREES
SPICY PORK SAUSAGE SPAGHETTI
Calabrian Chili, Parmesan, Basil
PAN-SEARED NEW ENGLAND SCALLOPS
Saffron Risotto, Artichoke, Oven Roasted Tomato, Basil
MUSHROOM AND ENGLISH PEA RISOTTO
Parmesan, Olive Oil
CHESHIRE PORK OSSOBUCO
Caramelized Onion Basmati Rice
FROM THE WOODFIRE GRILL
*BONE-IN SHORT RIB
Lentil Sauce, Basmati Rice, Almonds, Raisins
WHOLE BRANZINO
Fennel-Citrus Salad
LAMB CHOPS
Coconut & Mint Chutney
14OZ PRIME RIBEYE
Chimichurri
FAROE ISLAND SALMON
Capers, Lemon Butter Sauce
* SPRINGER MOUNTAIN MOROCCAN CHICKEN
Saffron Orange Basmati Rice, Almonds, Raisins, Tzatziki
SHAREABLE SIDES
CRISPY BRUSSELS SPROUTS
Pear Gastrique
SPICY GARBANZO BEAN STEW
Onion, Garlic, Tomato, Cilantro
GRILLED BROCCOLINI
Olive Oil, Lemon Juice
FINGERLING POTATOES
Rosemary Oil, Parmesan, Chives
*Items contain nuts.
The consumption of raw or undercooked eggs, meat, poultr y, seafood or shellfish may increase your risk of foodborne illnesses.
Please be sure to kindly inform your server/bartender of any allergies and/or dietar y restrictions.